A visit to Vijaya Milk Dairy by students of 9 class today accompanied by their science teachers to have a practical exposure to the processes involved in the unit
Zoonoses day
Montessori School celebrated Zoonoses day on 6 July 2019. 'Zoonotic' means infectious diseases that are spread between animals and people. Many children interact with animals in their daily lives, both at home and away from home. Pets offer good companionship and entertainment. However, some animals can carry harmful germs that can cause illness. The focus of this day was to create awareness of such diseases among students. This day commenced with the speech of Dr. KARTHIKA LAKSHMI & Dr. BABY STEFFI. In her speech she highlighted the benefits of raising children with pets.
Traffic Awareness Programme
Traffic DSP Sri Naga Bhushanam garu motivating students about road safety and Traffic Rules.
INTERNATIONAL YOGA DAY CELEBRATIONS
WORLD ENVIRONMENTAL DAY CELEBRATIONS
Montessori Sr. Secondary School celebrate every year "World Environment Day" is a campaign observed world wide every year on 5th of June to raise awareness about environment, protection of nature and the planet Earth.
World Environment Day is a platform for encouraging consciousness and action for the protection of environment. This day provides us with an opportunity to broaden the basis for an enlightened opinion and responsible conduct by individuals in preserving and enhancing the environment.
Colourful charts, paintings were displayed at the school foyer depicting concern about the environment and the way to tackle the problem of pollution and global warming by planting more trees every year. The paintings also gave the message to keep the surroundings clean and save the planet Earth.
Slogans on World Environment Day encouraged and motivated the students to beautify the surrounding areas through plantations, greenery, saving water etc. This day also reminded that we have only one planet to live on, it is our home and only we are responsible to maintain its natural beauty forever.
YEAR, 2022-23
TATA BUILDING INDIA SCHOOL ESSAY WRITING COMPETITION
NSO, 2022-23 WINNERS 'n' ACHIEVERS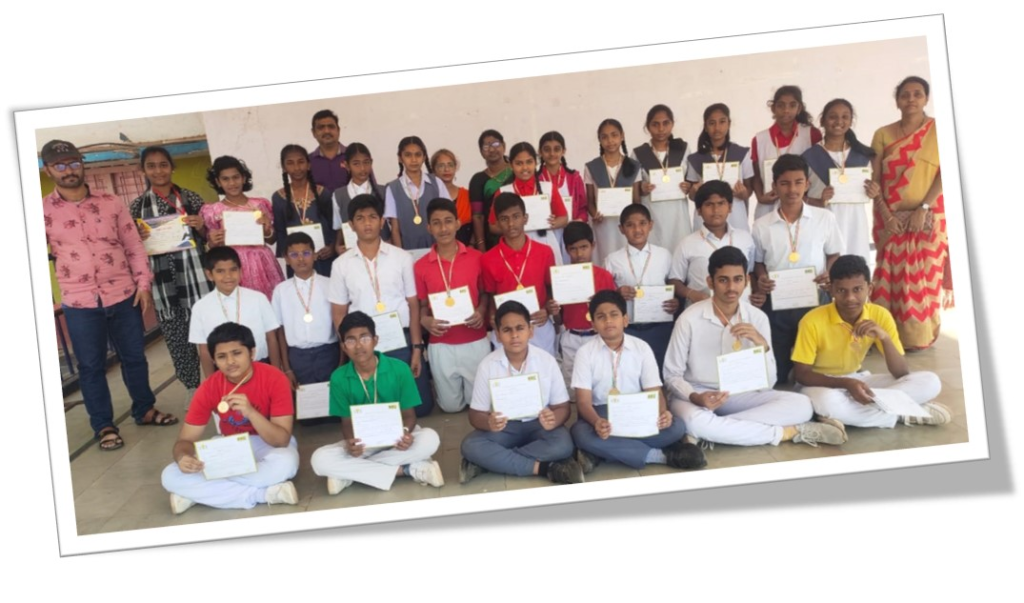 QUIZ COMPETITION WINNERS n RUNNERS
Winners and runners (both prizes are bagged by MAP students of A camp Montessori) are receiving prizes from Mr. Somayajulu, the director of IIIT (D.M.) on 28-02-23 in the quiz competition conducted by IIIT,.kurnool on the occasion of National Science Day
NATIONAL SCIENCE DAY CELEBRATIONS, 2022-23
CHRYSALIS DAY
Chrysalis Day is celebrated every year in Montessori Sr. Secondary School on February. It's a day for the Parents to witness how their Child Learns, Explores and Express in their Classrooms. Think Room Day celebration feel that a Child can be Successful if he/she is Strong in Cognitive, Social and Emotional Aspects. On this day, the students of Montessori exhibit their Projects, Activity and Play Skit to Express What they have done in the Entire Academic Year.
SCIENOFAIR
"Science begins with wonder, scientific temperament and rational thinking" There are no dreams too large, no innovation unimaginable and no frontiers beyond the reach of the students of Montessori Sr. Secondary School. Students created machines out of scrap material provided at makers Space and also reassembled wood to create Models.In the connection of science day, we organize "SCIENOFAIR". The budding scientists of Montessorians displayed different models and experiments with great enthusiasm and excitement. The scienofair was open from 10.00am to 12pm and the parents were also provided an opportunity to view it. The event provided a platform for scientific explorations and innovations for the future scientists.
Wedza Flaunta
IT wiz quiz Winners, 2022-23
Montessori Cyber Club's IT Wiz Quiz

Cultural Eve (PANCHATANTRA)
CBSE BLOCK (STANDARD) students of our Montessori School have participated and won 2 GOLD MEDALS , 1 SILVER MEDAL & 1 BRONZE MEDAL as well as APPRECIATION CERTIFICATES in the Hindi Pratibha Pariksha organized by Dashmandam Vidya Seva Sadan in the month of December.
In the connection with the "National Science Day" to be celebrated on Feb 28th, a number of activities are conducted, cooking competition was conducted for classes 8 & 9 under the theme "Miraculous Millets". Students participated with great passion & enthusiasm; awesome, innovative dishes made by the participants relishes everyone.
'Pariksha Pe Charcha-2022-23'
Health is wealth is an important element of every school's calendar. It is a time of celebration, feasting, and festivity.
Health is fitness
Health is energy
Health is bliss and strength
Dental Check-up Camp Held In School
Awareness program on AI-Artificial Intelligence, IOT– Internet Of Things and Coding.
"QUAD-COPTER WORKSHOP"
Quadcopter (from Quad "four" and Copter "helicopter") is an aerial robot combining a simple propeller mechanism with powerful electronics for limitless real-world applications. It is an embedded system comprising of microcontrollers, sensors, flight gear and other integrated components. This workshop helps participants to develop a Quadcopter project from scratch while understanding the various engineering concepts in making a working Unmanned Aerial Vehicle.
Students of class X were addressed by the Joint Collector of Vijayawada P. Sravanthi and Mr. Narayana Reddy, CEO (AP Urban Infrastructure asset management). The session was very useful to the students to stay (Experience is the Mother of Knowledge) motivated.
S
Road Safety Awareness program
Many parents now opt for home schooling or wish to take their kid's learning to an advanced level. Learning school activities for Children can help them prepare for school and tests and become successful in life. Several learning activities are designed to help children speed up their academic learning and introduce them to newer concepts beyond textbooks. Our list of activities will make learning joyful and interesting for children
"National Mathematics Day"
National Mathematics Day was celebrated at Montessori Sr. Secondary School on the 22nd of December, 2022. The day is celebrated to commemorate the birth anniversary of Indian Mathematical genius
"Srinivasa Ramanujan".
Montessori Sr. Secondary School, A-camp, Kurnool celebrated "

Dancin Feet

" its Annual Day on the 21st of December, 2022 for classes 1st to 5th
ONCE UPON A TIME
A student counselling and behavioural skills development program to class X students, organized by Sudheer Sandra-Psychologist, Career Counsellor, Behavioural Skills Coach from "SUPAR Foundation, a mental health and youth empowerment organization #ManoVignanaYatra". This session was very helpful to students to build their confidence, time management, honesty, optimism and also to be guided by positive mindset and driven by self -motivation.

Teacher's Day Celebrations
NCC ANNUAL TRAINING CAMP
World Zoonoses Day
WORLD MALARIA DAY (25.04.2022)
THE MEDICAL AND HEALTH DEPARTMENT OF KURNOOL MUNCIPAL CORPORATION HAS ORGANIZED A AWARENESS PROGRAMME & DEMONSTRATION – HOW TO REDUCE THE SRPREADING OF MALARIA
SWACHA BHARATH – ACTIVITY (by NCC students)
NCC STUDENTS OF ACAMP PRACTICING SIMULATARY FIRING IN SILVER JUBILEE COLLEGE.
NEW YEAR CELEBRATIONS BY PREP BLOCK STUDENTS
BLUE DAY CELEBRATIONS IN PREP BLOCK STUDENTS
IT WIZ-KiDS QUIZ PROGRAMME CONDUCTED IN CONNECTION WITH "WORLD COMPUTER LITERACY DAY"
GUEST LECTURE (MATHEMATICS) BY Dr. Y RAGHAVENDRA PRASAD Asst.. PROFESSOR OF MATHEMTICS IN G. PULLA REDDY ENGINEERING COLLEGE, KURNOOL ON "VARIOUS COURSES IN MATHEMATICS TO CRACK A GOOD AND CHALLENGING JOB" IN CONNECTION WITH RAMANUJAN BIRTH ANNIVERSARY
VIII STUDENTS PREPARING "BEST OUT OF WASTE" AS A PART OF CO-CURRICULAR ACTIVITY
"GANDHI JAYANTHI" – A PHOTO GALLERY SESSION IN THE CAMPUS
"STUDENTS CREATION"
IN CONNECTION WITH "WORLD OZONE DAY"